14
eur014
EDINBORO' TOWN.
EDINBURGH, scotland, July 22, 1889.
dear citizen :—Although we have re­sided in Scotland only two days we are able to give some valuable advice to any who anticipate moving hitherward, espe­cially as to some articles of male attire, which we recommend being left in Amer­ica. First among these is the beard, be­cause no greater nuisance has attended us than the unsuccessful search for a bar­ber. At last we succeeded in the chase, and now feel very much as though our visage had been well rasped with a nut­meg grater, and the blood sapped up with a towel "founded in the eleventh cent­ury," like all other things here, and re­taining all the odors of sanctity of those early ages. What would these folks think of one of our tonsorial artists?

Of course in this good country no bar­bers nor street cars nor other similar con­veniences can be found on Sunday, so we are compelled to go to church all un­shaven and unshorn. But it was our high privilege to hear a sermon which displaced all thoughts of things temporal and raised even our poor minds truly heavenward.
It was in the old St. Giles' church, the established kirk of Scotland—a grand old building, almost equal to St. Mingo's of Glasgow, which has a history of its own, its pulpit having been occupied by John Knox, and a tablet in the floor indicating the spot on which a "brave Scotch lassie" (Jennie Geddis) threw a stool at the head of some Episcopal divine who dared to read a collect—a curious deed to be so commemorated, but tempora mutantur, and the good Dr. Cameron Leeds most earnestly to-day read his prayer out of a book, and remarkably good ones they were, too, and his choir chanted the psalter and glorias right gloriously.
Most especially were we pleased with the sermon. All the surroundings were quaint and strange to us. The immense pillars of stone looming up in all direc­tions, the arched stone overhead, the nu­merous vergers in black gowns, trimmed with scarlet, moving with mien of dig­nity in every aisle; the thousands of peo­ple, plainly dressed, earnest and devout; the sweet, low toned organ; most of these things might have been calculated to make us feel strange and far from home. But when the sermon began we almost fancied we were sitting once more under the preaching of our own dear Father in God, Bishop At-kinson. The language was so pure and simple, the arguments so logical and di­rect, the application so earnest and en­treating—ah! all surroundings were for­gotten, and when we heard the last word we could not but feel that the preacher suited his church, and together they were calculated to do great good to all men who can and will accept it.
The service being over we recommence our exploration of this lovely city. Near the church door (itself worth a trip here to see, adorned as it is with the statu­ettes of the Scottish kings) we see worked in the pavement in a heart of large size, known as the "Heart of Midlothian," and marking the very spot on which Jennie Deans stood when she refused to tell a lie, even to save the life of her be­loved sister; a suitable exemplification of the truth which this church will ever teach.
A short distance down High street we find the old Cross of Edinboro', which has recently been restored and now makes a most striking monument surmounted by the arms of the nation and bearing the inscription "Sic itur ad astra;" again, as we think, suitably placed near the old church, encouraging as it does to good and glorious works, which must ever ac­company the true faith.
A ramble down High street towards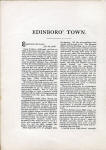 15
eur015
Canongate brings us to the residence of the great John Knox, whose grave we have just seen near St. Giles', and oh! wonderful incongruity, we find a part of his residence turned into a dramshop of the worst variety.
A little further on we find the old Tolbooth prison and opposite the residence of the Marquis of Huntley, built in 1570, and presenting on its front many quaint Latin legends, of which we wish we had space to give you a translation. Nothing else prevents us, of course. A little fur­ther is the old Tolbooth church, and again one of the numerous residences of the Marquis of Darnley, in which one of his vests is still well preserved.

A pleasant drive in a cab carries us to the foot of Arthur's Seat, and we cannot resist a scramble to its summit. Hard though the climb was we were amply re­paid, and seated on this lofty rock, look­ing out on a view unequaled, we must think, in the wide world, the thoughts of the morning sermon sweep back upon us, and we decide that this scene is its true application. Surely here one may get a realization of the presence and' merciful goodness of the great God and Father of ns all, which the preacher told us is need­ful before we can hope to attain to suc­cess in our life.
Near by our feet juts out boldly the famous Salisbury craig, and at its foot the humble cottage of Jennie Deans is seen, surrounded by a sweet garden, and situ­ated on the lands of the Dumbedikes, whose lines can still be distinguished, and to the southward the road to London which Jennie Deans traveled on her mis­sion of sisterly love; while at a short dis­tance stands the very church in which good Reuben Butler held forth, and where Jennie called on her way. Even there it was that the Laird of Dumbedikes prevailed on the stubborn pony to over­take his master's sweetheart, who with many pangs gave her the "siller" for her journey.
Turning to the northward we recognize without assistance the Bog of the Rob­bers and the round hill on which Madge Wildfire posed, and near by see the pile of stones which, we are told, is the cairn where Effie had her trysting with her gay lover.
The veritable St. Anthony's church still stands, but in ruins, and we drink an icy draught of water from this famous well. Think, dear children, of our being permitted to drink from the same spring as the dear, truthful Jennie Deans! Don't you think we ought to be much better here­after ? Well, we will try to be.
The view from Arthur's Seat, which rises nearly 900 feet above sea level, sur­passes anything we ever imagined in per­fect beauty. The grand city of Edinburg, the calm and lovely Frith of Forth, spanned in the distance by the mighty bridge, the isle of Inch Keith, the distant mountains of Berwick Land and Bass Rock, the nearer towns of Portobello and Leith, the bright sun and glorious bracing air, the green, aye greenest of grass, under foot, and extending to the very water's edge, covered with thousands of fat sheep, all happy under the care of a good shepherd assisted by his faithful collie—all these things combine to make up a picture which one must see to appreciate.
Sunday evening, after a dinner at the Windsor hotel long to be cherished in our memory, we attend service at the Cathe­dral of St. Mary's, and churchman as we are, we must confess to disappointment. How different from the morning, both the service and the sermon. The former "past man's understanding," truly if that be in its favor, and the sermon the same old seven-and-six that we have heard from boyhood, about this Sunday being the "seventh Sunday after Trinity," etc., etc. When will our preachers learn that repe­tition, even of truths, may be carried ad nauseam? When they do, the church will be more successful in winning souls.
We were glad when the talk was over and we once more emerged on the grand old streets. A kind Scottish gentleman, of whom we have met scores, directs our course to a high bridge, spanning a deep and wide ravine, through which the "waters of the Leith" rush toward the sea, albeit rather polluted with the indus­tries of Leith, and on either side a sweet garden, inviting us to a nearer look than we are now enjoying from the top of the over spanning arches 200 feet in height. Here we linger until dark, that is 10.30 p. m., and then regretfully go on our wav to bed.
Monday morning finds us bright and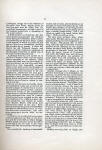 16
eur016
well and enjoying such a breakfast as seldom falls to the lot of man. The poetry of Scotland to us consists chiefly in its fish and its mutton chops. We have never seen their excellence even distantly approached. Their sole fish is delightful, and for the first time we had a whiting served with his tail in his mouth, remind­ing us of the passage in 'Alice in Wonder­land," which we never understood before.
Another poem is the bread, and an Edinburgh roll, called a crescent, is some­thing to dream about.
Away we go to look at Scott's monu­ment, most worthy both of this city and of the great man whose virtues it com­memorates. We wish we were able to describe it justly, but any effort would give you but a poor idea of its exquisite beauty, so we can only beg you to come and see for yourself.
And now to the grandest of all castles, perched upon its mighty, rugged hill of rock, to which it is so closely built that one can scarcely tell where the work of God stops and that of man begins; all seems equally massive and destined equally to endure until heaven and earth shall pass away.
The Esplanade, happily for us, is filled with Highlanders drilling, dressed in their curious uniforms, their bare legs and Cameron plaids, truly a picturesque pic­ture they made. But we leave them, to seek the older works.
Just now we hear striking the hour of midnight on the solemn bell of the Abbey of Melrose. Solemn, indeed, it sounds, although we have been told it is entirely modern, having been placed in its present position not earlier than the beginning of the fourteenth century. However, that is old enough to warn us that this short night is well nigh spent, and we will hie us to our couch and say good night and threaten you with "more anon."
<![if !vml]>

<![endif]>