PROGRAM FOR FUNERAL SERVICES
COVER
Funeral Sevices
For
Bishop William Jacob Walls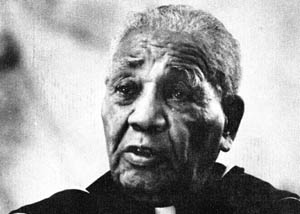 Monday, April 28, 1975 - 11:00 A.M.
Greater Walters A.M.E. Zion Church
8400 South Damen Avenue
Chicago, Illinois
Board of Bishops
African Methodist Episcopal Zion Church
| | |
| --- | --- |
| Bishop James W. Wactor | Bishop Charles H. Foggie |
| President | Secretary |
PAGE ONE
Dr. Charles S. Spivey, Jr.
Executive Director, Church Federation of Greater Chicago
Dr. M. B. Robinson
Editor, The Star of Zion
Dr. Joseph H. Jackson
President, National Baptist Convention U.S.A.
Hon. Richard J. Daley
Mayor, City of Chicago
SELECTION - Combined Choirs

Blackwell Memorial Church
Greater Walters Church

OBITUARY and ACKNOWLEDGEMENTS

Bishop James W. Wactor

HYMN No. 391 - "Jesus Lover of My Soul"
(Bishop Walls' Favorite Hymn)

Bishop John H. Miller

EULOGY

Bishop J. Clinton Hoggard

HYMN No. 62 "To Judah's Rugged Lofty Land"

Bishop George J. Leake

BENEDICTION

Bishop Ruben L. Speaks

RECESSIONAL
ENTOMBMENT
Lincoln Cemetery, Chicago, Illinois
Next to his dearly beloved mother, Harriet Edgerton Walls
PAGE TWO
OBITUARY
William Jacob Walls, 42nd Bishop of The African Methodist Episcopal Zion Church, was born in Rutherford County (near Chimney Rock), North Carolina, May 8, 1885, to Edward and Harriet (Edgerton) Walls. Fatherless at the age of eight and eldest of four children he was a dutiful son to his mother. After preliminary training in county and public schools, he entered Livingstone College, October, 1899, the same year he received his license to preach and become the noted "Boy Evangelist" or "Boy Preacher."
He graduated from the grammar school department and Normal department of Livingstone College with high honors, and from the College department in 1908 with highest honors, winning the Price Prize Gold Medal for oratory, and in 1913, he received his B.D. Degree from Hood Theological Seminary.
He has pastored in the Western North Carolina Conferences, Cleveland and Cedar Grove Churches, Miller's Chapel and Sandy Ridge Churches, Moore's Chapel, Lincolnton; and the famous Soldiers' Memorial Church of Salisbury, where he completed the building.
In 1913, he was appointed pastor of Broadway Temple, Louisville, Kentucky where he led the people in building a mammoth church plant. He was elected Editor of The Star of Zion, in 1920.
He continued his studies in philosophy, journalism, and sociology at Columbia University, New York, 922, and the University of Chicago, 1941. He received from the latter institution an A.M. Degree in Christian Education. Among his teachers were A. N. Weiman, W. C. Bower, Bertrand Russell. Honorary degrees of D.D., and LL.D. were conferred on him by Livingstone College.
He was consecrated a Bishop in the A.M.E. Zion Church in 1924. He served as secretary of the Board of Bishops (1941-1965), chairman of the Board of Christian Education (1924-1968), and chairman of the Board of Trustees of Livingstone College (1941-1973). Bishop Walls was the author of the biography, "J. C. Price, Educator--Race Leader," "The Romance Of A College," and numerous pamphlets. He just completed the history of the African Methodist Episcopal Zion Church in 1974. He was married to Miss Dorothy L. Jordan in 1956.
Many high honors came to him, such as representing the A.M.E. Zion Church at the General Conference, Methodist Episcopal Church South, 1918; Methodist Episcopal General Conference--1928, World Methodist Conferences from 1921 to 1966, and was one time vice president of this organization; World Council of Christian Education, Oslo, Norway, 1936, where he made an address and was a guest at King Haakon's tea, also 1958; National Council of Churches from its inception, 1950, and prior to that the Federal Council of Churches; Member of the Central Committee of the World Council of Churches from 1948-1954. In 1947 he was a member of President Truman's American Clergymen's Commission to occupied countries in Europe. Former president and treasurer of the Fraternal Council of Churches, Member of the Advisory Council, American Bible Society 1941-1972, Trustee of the International Society of Christian Endeavor. Former vice president and Life Member of the National Association for the Advancement of Colored People, Member, Advisory Committee, Congress of Racial Equality, Life Member, National Business League.
One of the founders of Roosevelt University, Chicago, Ill., 1945. In 1946, he directed the A.M.E. Zion Church's Sesqui-Centennial Celebration, and 1963, the Centenary of Freedom Celebration. He was the Founder of Camp Dorothy Walls in Black Mountain, N.C., and promoter of the Camp Barber, at Granville, Mass., and organized the Harriet Tubman Home Foundation Board, 1953, in Auburn, New York. He was a recipient of many awards.
He departed April 23rd, 5:10 A.M. at Yonkers, N.Y. He leaves to mourn his devoted wife, Dorothy, one sister, Mrs. Anna M. Taylor of Chicago, one aunt, Mrs. Ella J. Brooks of New York City, mother-in-law, Mrs. Maude L. Jordon of Los Angeles, Calif., several cousins, among them Senator Verda F. Welcome (State of Maryland-D.) and Mrs. Earline McQueen of Asheville, N.C., and other relatives and numerous friends.
Bishop Walls would say to us today:
"People have been dear but it takes GOD TO WIN. Some think that I have come to say good bye. Nay! Nay! I am here to say how do you do! I have projects not yet strong; I wish to aid their perpetuity. 'I must work the works of Christ and Zion, then night will come and light will burst through the morning of a never fading day.'"
The Family
BACK COVER
AMOR PATRIAE
(Love of Fatherland)
One of Bishop Walls' foremost charities and concerns among many was the cause of our African people. In 1960 prior to the independence of many African nations he stated:
"In seeking significance, we will surely be reminded that it is a world movement that gives Africa the chance to swing free. The world could not, if it tried, hold out Africa from the mounting ocean of resistless freedom. It brings a staggering drain upon our foresight and collective responsibility. If we are not aroused by a sense of our own racial and color destiny in such a time, our Christian culture is in vain and we are of all men most miserable. If Africa should fall, which she will not do, we, too, in the States would fail in freedom. If she succeeded without our black American help, we would become the most despised people on earth both by Africans and all others who know the meaning and inviolability of race loyalty…It takes courage, money and talent to fight for freedom's cause. That again means that we have wise conservation, community and business cooperation, and the use of all available and potential means of our race, including the giving of our talents, hearts, and earnings."
In light of this statement the family has requested in lieu of flowers that contributions be made to the W. J. Walls African Memorial Fund, c/o Carver Federal Savings & Loan Assn., 75 W. 125 Street, New York, N.Y. 10027.
MORITICANS
BROOKS MEMORIAL HOME, YONKERS, NEW YORK
AND
A. R. LEAK FUNERAL HOME, CHICAGO, ILLINOIS
Notes of Lucy Herring
Valuable book. Recent publication.
"The African Methodist Episcopal Zion Church"
by
Bishop William J. Walls
Born in Rutherford, N.C.
Made Asheville his home.
Worked in hotels here.