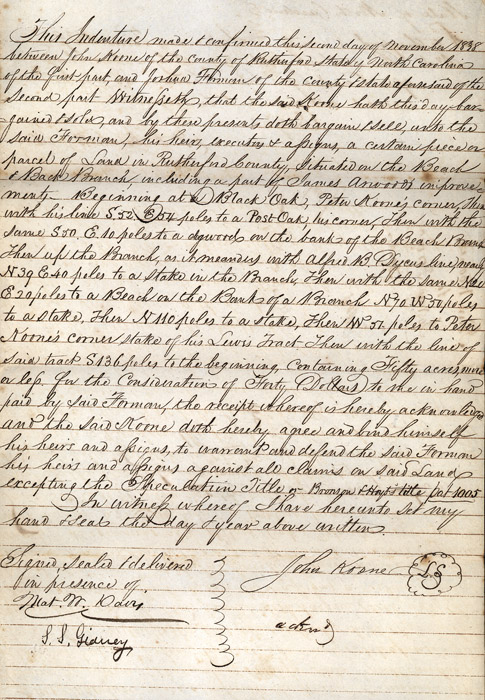 [Note: Attached to the document is a survey for Joshua Forman containing 49 acres. View Survey.]

This Indenture made & confirmed this second day of November 1838 between John Koone of the county of Rutherford State of North Carolina of the first part, and Joshua Forman of the county & state aforesaid of the second part[.] Witnesseth, that the said Koone hath this day bargained & sold, and by these presents doth bargain/sell, unto the said Forman, his heirs, executors & assigns, a certain piece or parcel of Land in Rutherford County, situated on the Beach & Back Branch, including a part of James Arwood's improvements. Beginning at a Black Oak, Peter Koone's corner, then with his line S. 52. E 54 poles to a Post Oak, his corner, Then with the same S 50. E 10 poles to a dogwood on the bank of the Beach Branch. Then up the Branch, as it meanders with Alfred B. Dycus line, nearly N 39 E. 40 poles to a stake in the Branch. Then with the same N 20 E 20 poles to a Beach on the Bank of a Branch N 70 W 50 poles to a stake, then N 110 poles to a stake, then W 51 poles to Peter Koone's corner stake of his Lewis Tract. Then with the line of said tract S 136 poles to the beginning, containing Fifty acres more or less for the consideration of Forty Dollars to me in hand paid by said Forman, the receipt whereof is hereby acknowledged and the said Koone doth hereby agree and bind himself his heirs and assigns against all claims on said land excepting the Speculation Title or Bronson & Hoyt's title pat 1005 [referring to patent number]
In witness whereof I have hereunto set my hand & seal the day & year above written.
Signed, Sealed & delivered in presence of}
Mat. W. Davis [Signed] John Koone [Signed & seal]
L.L. Gidney [Signed]